Welcome, Parents!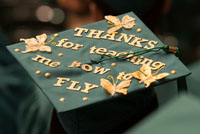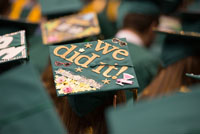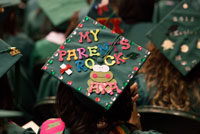 One of Mason's traditions is for seniors to decorate their graduation caps with messages of meaning.
Students often dedicate their caps to their parents, thanking them for their love and support.
---
We know that guiding your child as he or she decides where to attend college is both an immensely rewarding and difficult experience, and we're here to help! We are here to help you navigate every step of the college process – visiting campus, learning more about Mason's academic programs, study abroad opportunities, internships, residential life, and, of course, applying to Mason.
For any questions, please don't hesitate to send us an email or give us a phone call at 703-993-2400 – we look forward to hearing from you! We even have The Patriot available to help you at any time of day or night…simply ask a question at http://admissions.gmu.edu/askThePatriot/, and if it a frequently asked question, you'll receive an immediate response.
If you're the parent of a new or current Mason student and you want to get more involved with Mason, be sure to join the Parent Volunteer Network. As part of the Parent Volunteer Network (PVN), you will work closely with the Office of Admissions throughout the year to help us spread the Mason word! Opportunities for involvement include volunteering at college fairs and high schools in your community, and other fun programs to connect you with future Mason Patriots. You can learn more about the Parent Volunteer Network by visiting: http://admissions.gmu.edu/?page=alumniRegistration.asp.
We've also included a list of some of the top reasons that students and their families have made Mason their first choice. Our thanks to members of our parent network for suggesting the items on the list, and for their impressive commitment to Mason and our students. Click here to check it out!