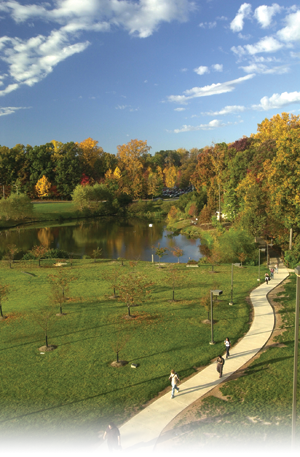 Visit Mason

Due to winter weather conditions, the Office of Admissions will open at 11:30am on Friday, March 6.
Today's Spotlight Day event has been cancelled, but an Admitted Student Information Session and Tour will be offered at 1:30pm. Please check your email for additional information.
George Mason University boasts a traditional 670-acre residential campus, conveniently located just 15 miles outside of Washington, D.C. As the largest and most diverse university in the Commonwealth of Virginia, Mason's reach is global! Our students come from all 50 states and over 135 countries. And, with nearly 80 undergraduate programs, access to some of the most prestigious internship and research opportunities in the nation, over 300 student clubs and organizations, and 22 NCAA Division I athletic teams, Mason has something for everyone. But these facts alone don't tell the whole story about how you might benefit from Mason. You have to see it to believe it! Check out our various on-campus events and come visit us to experience first-hand whether Mason might be the place for you!
Join us for an information session and campus tour, and then head into the city for a fun weekend of D.C. sightseeing. Whether you visit us in the spring and experience the National Cherry Blossom Festival, the summer when there are endless concerts and shows, or in the fall, when the Potomac River's hiking trails are at their most beautiful, you'll have an incredible weekend, and leave with a great Mason memory.