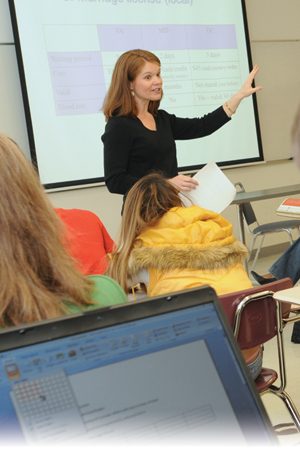 Mason-FCPS Math Dual Enrollment Program - Fall 2015
Program Description
The George Mason University Department of Mathematical Sciences partnership with Fairfax County Public Schools offers exceptionally talented high school students the opportunity to earn advanced university level mathematics credit. All courses are taught by Mason affiliate faculty and are offered on-site in FCPS high schools.
Admission Requirements
George Mason University will consider highly qualified juniors and seniors for participation in the dual enrollment program. The Admissions Committee will offer admission to students who have demonstrated the preparation and maturity indicative of the potential to succeed in Mason's rigorous coursework. The applicant's entire secondary academic record will be considered in the selection process and not all applicants will be offered admission. Enrollment in a FCPS math dual enrollment course does not constitute admission to George Mason University.
Courses of Instruction
MATH 213 Analytic Geometry and Calculus III (3)
MATH 351 Probability (3)
MATH 411 Functions of a Complex Variable (3)
MATH 351 and MATH 411 are only offered at Thomas Jefferson High School for Science and Technology.
Academic Calendar
George Mason University and Fairfax County Public Schools operate on different academic calendars. Participation in the dual enrollment program requires FCPS students and parents to adhere to University deadlines.
Application Process - Fall 2015
Step 1:
Select the "Apply Now" button on the Admissions homepage to create an account to start your Undergraduate Application.
In the "Academic Information" section choose: Application term, Fall 2015; Academic Interest, Undecided Bachelors; Current Education Level, I am currently enrolled in high school.
After establishing your account you will be prompted to the Undergraduate Studies application. Mason-FCPS Math DE applicants are not required to complete all sections of the application. The following sections must be completed:
Educational Intent
Applying as: Non Degree
Level of Education: Currently enrolled in high school
Application Term: Fall 2015 Fairfax Math
Major: Fairfax Math Dual Enrollment
Additionally, the following sections must be completed: Personal Information, High School, Application Information, Application Fee Information (non-refundable $60 application fee required) Application Certification and Honor Code and the Application for Virginia In-State Tuition Rates.
Note: Only questions marked with a red asterisk are mandatory. Non-mandatory questions may be skipped. Students are expected to complete the dual enrollment application. Parents should complete both sections of the Virginia In-State Tuition Rates application.
SSN requirement: George Mason University is required to report Social Security or Tax Identification Numbers to the Internal Revenue Service for 1098T purposes. Applications submitted without SNN/TIN's will not be processed.
SUBMISSION DEADLINE
OCTOBER 23, 2015
Step 2:
After submitting your online admission application, request your official FCPS high school transcript to be sent to:
Office of Non-Degree Enrollment
George Mason University
4400 University Drive, 3A4
Fairfax, VA 22030
Step 3:
Complete the Course Registration and Payment form (PDF). Attach $425.00 check/money order payment and submit to the Office of Non-Degree Enrollment.
SUBMISSION DEADLINE
OCTOBER 23, 2015
Applications and/or Course Registration and Payment forms received in the Office of Non-Degree Enrollment October 24-30, 2015 will be processed. The dual enrollment fee for this registration period is $550 per course. No applications or registrations will be reviewed after October 30.
Mason has communicated the availability of this dual enrollment program to all FCPS Student Services and Mathematics Departments and relies upon the high schools to share programmatic information with prospective students.
Enrollment Process and Tuition Payment
Upon admission, students will be registered for the appropriate course and the tuition payment check will be processed for the non-refundable $425.00 or $550 tuition charge for in-state tuition rates. Students classified as out-of state for tuition purposes will be contacted before being registered for the course. Mason accepts personal checks or money orders for payment. Cash and credit cards will not be accepted. The check or money order must be attached to the Course Registration and Payment form and submitted directly to the Office of Non-Degree Enrollment. Submission of payment to any other office will disqualify the student for dual enrollment admission and registration.
Official Communications
Students and parents are required to provide a valid email address that will be used during the admission review and enrollment process.
Transcripts
Upon course completion, official Mason transcripts are available from the Office of the University Registrar: registrar.gmu.edu.
Student/Parent Point of Contact
All inquiries regarding the Mason-FCPS dual enrollment program should be directed to the Office of Non-Degree Enrollment at: 703.993.9125 or nondegre@gmu.edu.
Office Location: Enrollment Central, Student Union I