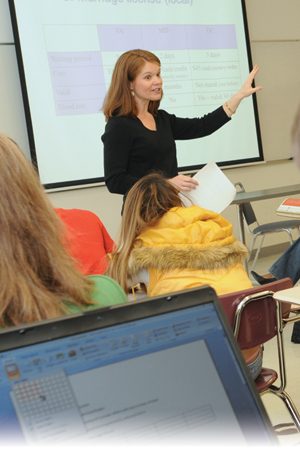 Mason-FCPS Math Dual Enrollment Program - Spring 2014
Program Description
The George Mason University Department of Mathematical Sciences partnership with Fairfax County Public Schools offers exceptionally talented high school students the opportunity to earn advanced university level mathematics credit. All courses are taught by Mason affiliate faculty and are offered on-site in FCPS high schools.
Admission Requirements
George Mason University will consider highly qualified rising juniors and seniors for participation in the dual enrollment program. The Admissions Committee will offer admission to students who have demonstrated the preparation and maturity indicative of the potential to succeed in Mason's rigorous coursework. The applicant's entire secondary academic record will be considered in the selection process and not all applicants will be offered admission. Enrollment in a FCPS math course does not constitute admission to George Mason University.
Courses of Instruction
MATH 203 Linear Algebra (3)
MATH 214 Elementary Differential Equations (3)
Academic Calendar
George Mason University and Fairfax County Public Schools operate on different academic calendars. Participation in this dual enrollment program requires FCPS students and parents to adhere to earlier University deadlines.
Spring 2014 Application Process
All new applicants are required to provide the George Mason University Office of Non-Degree Enrollment a complete application packet by February 14, 2014. New applicants are defined as those students who were not enrolled by Mason in a fall 2013 dual enrollment math course. Complete application packets must include:
The MASON-FCPS Dual Enrollment Application (PDF) and (Domicile) Application for Virginia In-State Tuition Rates (PDF). Students are expected to personally complete the Dual Enrollment Application. Parents should complete the domicile application. Admitted applicants who do not submit the domicile application are charged out-of-state tuition rates.
An official FCPS high school transcript in a sealed FCPS letterhead envelope.
The Course Registration and Payment Form (PDF) and check for tuition payment.
Application packets must be received by the Office of Non-Degree Enrollment no later than February 14, 2014. NOTE: Late applications will not be accepted. Incomplete application packets will not be reviewed. Mason has communicated the availability of this dual enrollment program to all FCPS Student Services and Mathematics Departments and relies upon the high schools to share programmatic information with prospective students and parents.
Office of Non-Degre Enrollment
George Mason University
4400 University Drive, 3A4
Fairfax, VA 22030
Returning FCPS-MASON Math Dual Enrollment Students
Students who were enrolled by Mason in a dual enrollment math course during the fall 2013 semester and who wish to enroll for spring 2014, should check the returning student box on the Course Registration and Payment Form. The form and check payment must be received by the Office of Non-Degree Enrollment no later than February 14, 2014. No other documentation is required.
Review Process
The Office of Non-Degree Enrollment will notify applicants of admission decisions by March 1, 2014.
Enrollment Process and Tuition
Upon admission, students classified as Virginia residents will be registered for the appropriate course and the non-refundable $425.00 tuition payment will be applied to the student account. Students classified as out-of state for tuition purposes will be notified and provided a deadline for receipt of out-of-state tuition payment. Mason will accept personal checks or money orders for payment. Cash and credit cards are not accepted. Applicants who are not offered admission will have their tuition payment immediately returned.
Official Communications
Students and parents are required to provide a valid email address that will be used during the admission review and enrollment process.
Transcripts
Upon course completion, official Mason transcripts are available from the Office of the University Registrar: registrar.gmu.edu.
Student/Parent Point of Contact
All inquiries regarding the Mason-FCPS dual enrollment program should be directed to the Office of Admissions Non-Degree Enrollment staff at: 703.993.9125 or nondegree@gmu.edu.