Meet the Patriots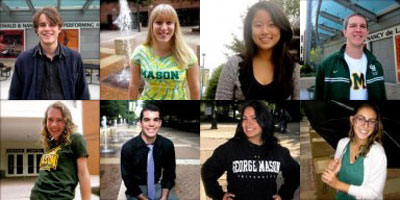 The Patriot Life, a blog hosted by Mason's Office of Admissions, is your chance to find out what it's like to be a student at Mason. These student bloggers share their honest, real, day-to-day experiences as "Mason Patriots." Whether they attend an inspirational lecture, sing their hearts out at a concert on campus in the Patriot Center, attempt a food challenge with their friends, or lose sleep pulling an all-nighter for the next morning's chem exam – you get to follow it all. You'll read as they perform in choral groups, play underwater hockey, catch big-name concerts on campus, intern with the likes of The Washington Post and National Geographic, and more. You'll learn what it's like to study abroad in a foreign country. They'll take you on weekend adventures in beautiful Northern Virginia and action-packed Washington, D.C. They'll show you what it's like to attend college classes and work alongside professors on ground-breaking research projects. Most of all, they'll share with you why Mason has become their home.
Find out more than just the facts. Follow our students on their adventures throughout the year and find out what it's like to live The Patriot Life by visiting http://patriotlife.wordpress.com/.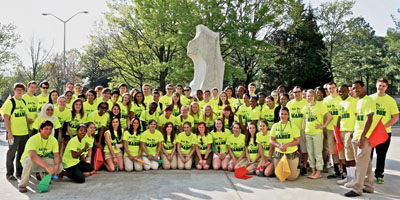 Mason Ambassadors are current students who have the desire to share their own Mason experiences with prospective students and families. If you've ever been on a campus tour or have visited Mason for an admissions event, you've probably met a Mason Ambassador! Ambassadors create lasting impressions on prospective students, aid the Office of Admissions in recruitment efforts, help bring distinguished guests and speakers to campus, and work to improve the Mason community.
Learn more about the Mason Ambassadors Program and what you can do to join this student organization and make a difference at Mason!