Meet Our Admissions Counselors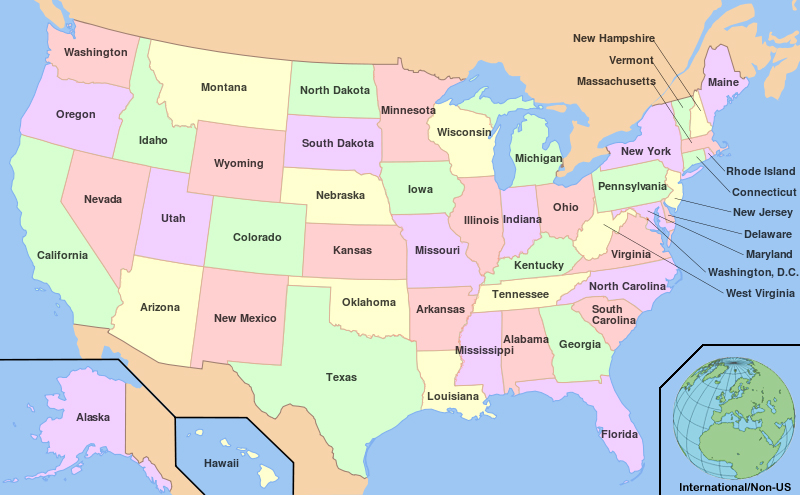 Whether you are just beginning your college search, are considering applying to Mason, or are an admitted student, we encourage you to contact your Admissions Counselor to learn more about all the amazing opportunities that await you at Mason. We look forward to working with you!
Want to contact the Admissions Counselor who reads for your high school? Select your state from our Counselor Map to contact the representative who will be working with you as you consider Mason.
Have general questions? Feel free to email the Office of Admissions at admissions@gmu.edu or call 703-993-2400.
Click on any of our staff members below for more information.
Undergraduate Admissions Staff
Amy Takayama-Perez — Dean of Admissions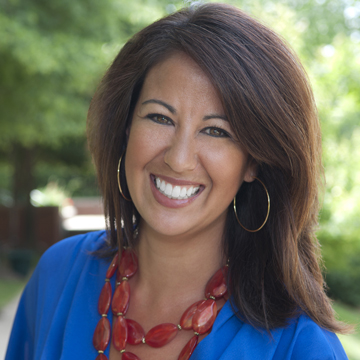 Hello, future Patriots! My name is Amy Takayama-Perez, and I have the pleasure of serving as the Dean of Admissions at George Mason University, my alma mater. I look forward to sharing with you all that makes our university home to students from across the country and all over the world.
As a native New Englander, I originally came to Mason to pursue an undergraduate degree in Sociology. I was drawn to Mason for its dynamic and diverse student body, strong academic programs, and beautiful campus located just minutes from Washington, D.C. This is a truly one-of-a-kind university, and I loved it so much I decided to earn my Masters of Education from Mason as well. From that time to now, I have had the opportunity to watch Mason grow into the amazing global university that it is today.
As a prospective student, I hope you will get a chance to visit campus and spend some time in the greater Washington, D.C. area. It's never been a more exciting time to be a Patriot and part of community of scholars making a difference every day. At Mason, we pride ourselves on preparing students for real world jobs and careers through competitive internships and research opportunities with impact. The best part of my job is working with students and families every day and telling them about the Mason story.
On behalf of the entire admissions team, we are thrilled that you are considering Mason, and I invite you to visit us and experience all we have to offer you. We want to make sure we can help make your college search and application process as stress-free as possible, and we are always here to answer any questions you may have about Mason and share our Patriot pride with you. Go Patriots!
Matthew Boyce — Director of Undergraduate Admissions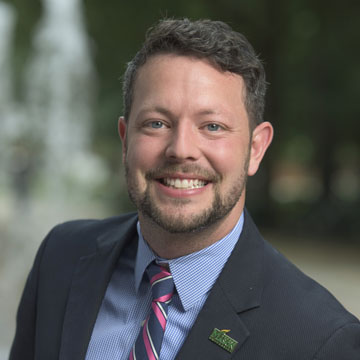 Welcome! I'm Matthew Boyce, George Mason University's Director of Undergraduate Admissions.
A product of a Naval family, I spent my early life zig-zagging across the country with my parents and six (yes, six) siblings. After Charleston, Honolulu, Seattle, and even a few stints here in Fairfax, we finally settled in suburban Philadelphia which I consider home.
I hold bachelor's degrees in psychology and philosophy from Villanova University, a Master of Education degree with a concentration in school counseling from Boston University, and am currently working toward my PhD in education here at Mason.
Prior to my time at Mason, I served as Director of Programming for the college-access nonprofit Let's Get Ready, in New England, helping students make their college dreams a reality. In this role, I built upon my earlier experiences as a school guidance counselor at Boston College High School and as a teacher and counselor for at-risk youth as an AmeriCorps volunteer in Boston's Dorchester neighborhood.
My career and passion is helping students and families access higher education and unlock the door to their futures by helping them navigate the college application process. As we connect, I look forward to telling you about how much I love being a Patriot and the world of opportunities Mason offers.
Jennifer Tkacz — Director of International Admissions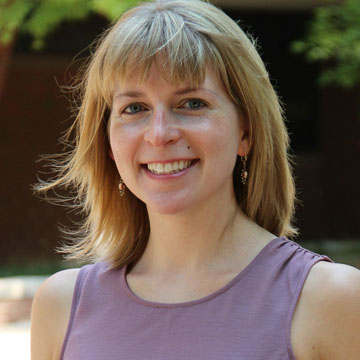 Hello! My name is Jennifer Tkacz and I am Director of International Admissions here at George Mason University.
I grew up in Windsor, Connecticut and came to Washington, DC back in 1997 to attend American University where I received a Bachelors degree in International Studies and a Masters degree in International Affairs. After finishing my graduate degree, I spent a few years living and working in the New York City area but I missed DC so much and the chance to work for Mason was so enticing, I had to come back!
I started working with international students as an undergraduate student admissions assistant at AU over 10 years ago and have since dedicated my career to promoting U.S. higher education and international understanding. I thoroughly enjoy sharing with international students all of the exciting opportunities a U.S. education (and specifically an education at Mason!) has to offer.
When I'm not helping international students, I enjoy traveling, reading, cooking, going to the movies, practicing my Spanish, and learning about new cultures.
Lauren Wagner — Senior Assistant Director of Admissions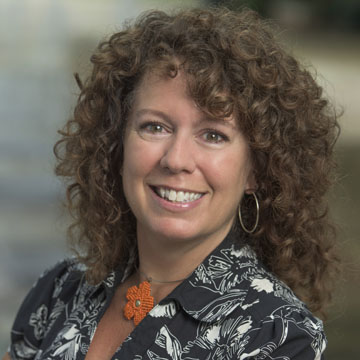 Hi! My name is Lauren Wagner, and I wear two hats in the Admissions Office. I am a Senior Assistant Director of Admissions, and I am also the advisor to our group of student tour guides – the Mason Ambassadors. I grew up in West Virginia and (like some of you) decided to go out of state for college. My bachelor's degree is from Indiana University and my master's degree is from Duke University. People joke that I chose my schools based on the competitiveness of their basketball teams, and, since I'm now at Mason, I guess there's some truth to that.
A good part of my working life has centered around higher education, mainly teaching, and I truly enjoy working with students, the vibrant life on campus and the unique opportunity that college presents for different perspectives, opinions and opportunities for learning.
I have been with the Admissions office since the summer of 2010, and I can tell you that the love for this university and pride that our students feel for Mason is contagious. I can't imagine being anywhere else and am so thankful to have the opportunity to help students, parents (and even alumni) find a home here with our Mason family.
Choosing a university and crossing this threshold is so exciting, yet I know it can be overwhelming at times. We counselors are here to assist in any way we can, so don't be shy about reaching out for help. Please feel free to contact me anytime with questions about Mason, the application process in general, or (for you alums out there) how to reconnect with Mason in a volunteer capacity. My email is lwagner4@gmu.edu and I can be reached by phone at 703-993-2400.
Good luck on your college search and career, and I hope to see you around campus!
Andrew Bunting — Assistant Director of Admissions / Volunteer Coordinator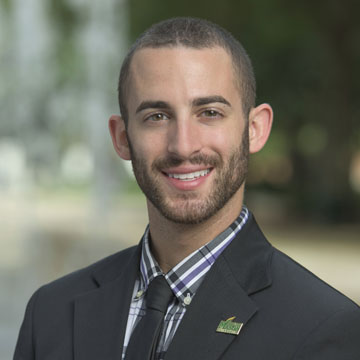 Hello! My name is Andrew E. Bunting and I am an Assistant Director of Admissions at George Mason University, where I also work closely with our student tour guides (the Mason Ambassadors), as well as coordinate our Mason Admissions Volunteer Network. I am originally from Sewell, New Jersey and graduated with Honors from the University of Delaware with majors in International Relations, French Language, and History. My time in college included a semester long study-abroad trip to Paris, participation in a wide array of intramural sports and clubs, and meeting some of my best friends. After having such an amazing time in college I decided to pursue a career in college admissions so that I could help future students have the same type of rewarding experience that I did.
As part of the Mason Admissions team it is my job to help prospective students and their families navigate the college search and application process. Mason offers such a unique set of educational and social opportunities, from first rate professors and study-abroad opportunities, to over 300 student organizations and Division I athletics. Mason really does have it all, and I am thrilled to be able to share our campus with you. My travel territory includes Northern New Jersey and New York, including New York City, Westchester County, and Long Island - expect to see me around if you are from these areas! If you have any questions along the way please do not hesitate to contact me at abunting@gmu.edu.
I look forward to seeing you all on campus as Patriots!
Pat Money — Assistant Director of Admissions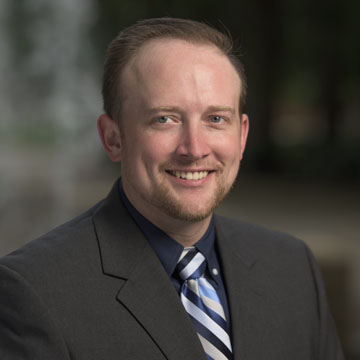 My name is Patrick Money, and I am an Assistant Director of Admissions for the Office of Admissions at George Mason University. I have lived in Northern Virginia my entire life and attended high school at Lake Braddock Secondary School. I had an amazing experience as an undergrad while earning my Bachelor of Arts in Psychology here at Mason. This area is an incredible place for young people to explore options both professionally and socially - an opportunity I took in full, which ultimately led to a college career I thoroughly enjoyed and would not trade for anything.
One of my favorite memories was when I made my initial decision to come to Mason back in 2006 after I saw the Men's basketball team reach the final four live at the Verizon Center!
I first started working with the Admissions Office in the Spring of 2007 as a student, but now, I am very excited to join the Mason community as a professional. I have a passion for higher education and even more so for George Mason University, and I hope to share it with all those who are interested.
Have a great school year, and please feel free to contact me if you need any help with the college admissions process! GO PATRIOTS!
Amanda Guerin — Admissions Counselor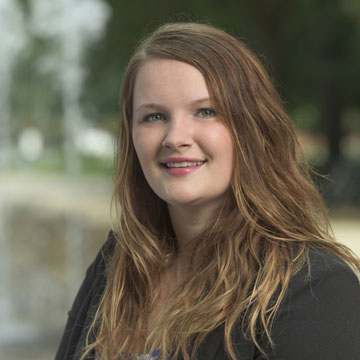 Hello! My name is Amanda Ray Guerin and I am an Admissions Counselor here at George Mason University. I grew up in Mechanicsville, Virginia and graduated from Mason with a degree in Criminology, Law and Society. As a student, I was involved in Greek Life, worked for Mason Recreation, and of course cheered my heart out at our NCAA Division I basketball games!
Going to school just outside of the nation's capital is an amazing experience due to all the opportunities you get in and outside of the classroom. One of my favorite things about Mason is that students get to work with prestigious professors with real-world experience. You gain incredible connections with faculty members who are experts in their fields, including Assistant Attorneys General, novelists, scientists, policy makers, and even Tony Award and Pulitzer Prize winners. Choosing to attend Mason is hands down the best decision I ever made.
I love being a part of the Mason Nation and working for the Office of Admissions. Please feel free to contact me with any questions about the admissions process or if you want to learn more about Mason. Go Patriots!
Tierney Keller — Admissions Counselor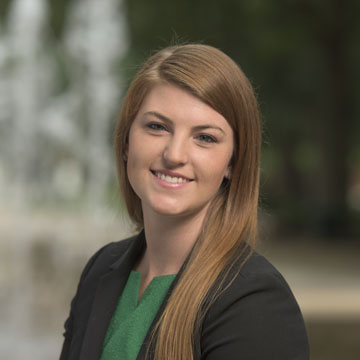 Hello! My name is Tierney Keller and I am an Admissions Counselor here at George Mason University. Originally from southern New Jersey, I completed my undergraduate studies in International Relations, International Business, and Spanish at the University of Delaware and am currently working towards my Masters in Higher Education at Mason. As an undergraduate, I was able to work as a Student Admissions Officer and tour guide before starting my career as an Admissions Representative at Mason and have loved my time so far!
As the main Admissions Counselor for all students in the Southeast, I am excited to bring a little southern charm to Mason's campus through the talented students I meet daily while recruiting throughout the region and here on campus!
In addition to a vibrant residential campus just minutes from Washington, D.C., Mason offers a strong balance between student life and academics with top-rated faculty guiding our students and more than 300 student organizations from which to choose. This balance allows students to capitalize on countless opportunities, both on campus and across the globe. I cannot wait to work with you to bring you one step closer to finding your home at Mason!
Anna Haber — Admissions Counselor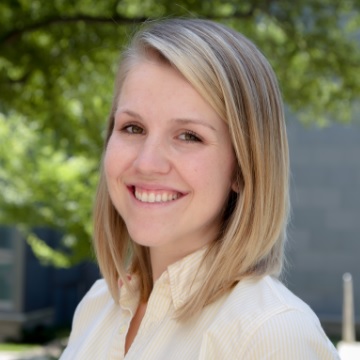 Hi! My name is Anna Haber and I am an Admissions Counselor here at George Mason University. I am from a military family and therefore have lived all over the world, but I consider Las Vegas, Nevada my "hometown."
Pursuing a degree in Marketing at Mason was one of the best decisions I have made. The School of Business has given me the knowledge and experience I need to become a successful marketing professional. As a student, I was heavily involved with the Mason Ambassador Organization, a facet of the Office of Admissions, served as the Director of an annual student benefit auction on campus, and worked for both the Development and Alumni Affairs Offices.
I chose Mason because of the opportunities available to students here. I have been able to gain real-world experience both inside and outside of the classroom due to our close proximity to Washington, D.C. and the professors teaching in the classroom. Mason has given me the opportunity to network with top professionals in their field and has helped me start the foundation for a successful career.
The atmosphere at Mason is incredible. I can call Mason my "home away from home" because of the friends and faculty I have met here along with all that I can do throughout the week; whether it be to visit the National Mall, attend an on-campus concert at the Patriot Center, or watch a movie with friends in the campus cinema. I hope you will take the time to visit campus to experience all that Mason has to offer! Please feel free to contact me if you have any questions!
Casey Catlin — Admissions Counselor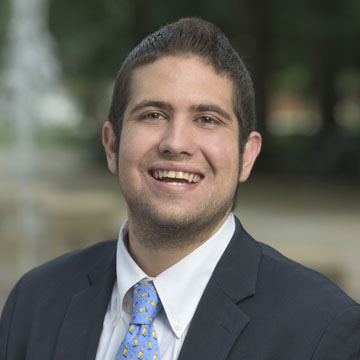 Hello! My name is Casey Catlin and I am an Admissions Counselor here at George Mason University. Originally from Sarasota, Florida, I completed my B.A. in Political Science at the University of Central Florida and am currently working towards my Masters in Public Policy at Mason. As an undergraduate student, I had the opportunity to work as both an Admissions Ambassador and Operator before happily leaving humid Florida summers behind to join the Admissions team here at Mason!
As the son of an educator and George Mason alumnus, I strongly believe in the value of higher education and the opportunities it provides to students. Your time in college is an incredible time to grow both personally and academically, especially at Mason where you'll be learning from world renowned faculty and provided access to hundreds of different student organizations.
Perhaps my favorite quality about Mason is the opportunity and accessibility provided to our students. In addition to studying at a thriving residential campus located in the charming town of Fairfax, students are also just a metro ride away from Washington D.C., a booming metropolis home to prestigious employment and internship opportunities. With the assistance of our career services office, students have interned everywhere ranging from the Capitol Hill to the National Institutes of Health, often leading to future employment possibilities. After all, it's not just about the grades you make, but also the hands you shake!
I look forward to assisting you throughout the college admissions process, and please feel free to contact me with any questions you have along the way. Go Patriots!
Eva Bramesco — Admissions Counselor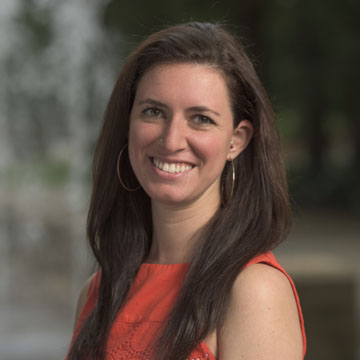 Hello! My name is Eva Bramesco and I am an Admissions Counselor here at George Mason University, focusing on Boston, Southern New Jersey, and Rockland, Orange, and Putnam Counties in New York. Originally from Danvers, Massachusetts, I graduated from Ursinus College in Collegeville, Pennsylvania with degrees in International Relations, Spanish, and a minor in Latin American Studies. At Ursinus I worked in the Office of Admissions as a tour guide and intern, and also participated in Greek life, the dance and theater companies, and was president of our competitive Model United Nations club.
Directly after graduation I moved to Washington, DC to work in International Development, but my passion for education and working with students ultimately led me to the Admissions world and George Mason.
Even though my alma mater is the opposite of Mason in terms of size and location, I was drawn here because I saw a school with the same heart as the one I loved for four years. Mason is a school where students are driven and committed, and talented professors truly care about helping you reach your goals. At Mason, we put no limit on your ambitions. If there is something you want to learn, see, or do, Mason is the place to be. From internships in the most powerful city in the world to study abroad opportunities on all 7 continents, Mason takes pride in offering the strong foundation that prepares our graduates to be some of the most competitive young professionals entering the workforce.
If you have any questions about the college application process in general, or the Mason application process in specific, please don't hesitate to contact me. I hope to see you on campus soon! Go Patriots!
Kimberly Olodun — Admissions Counselor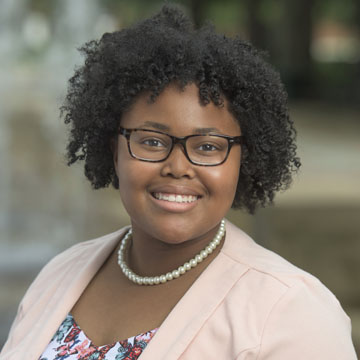 Hi there! My name is Kimberly Olodun and I am an Admissions Counselor here at George Mason University, as well as a Mason graduate with a B.A. in Global Affairs and a concentration in World Arts. I am originally from Virginia Beach, Virginia, but moved to Honolulu, Hawaii after my second year of college (I'm from a military family!).
As a student at Mason I was heavily involved in student life on campus, serving as a Resident Adviser, the president of the Black Student Alliance, and a teaching assistant for several African Dance classes on campus. Going to a school fifteen minutes away from the nation's capital kept me excited about all the opportunities available to me, like performing arts events and visiting different restaurants in Georgetown. I was constantly visiting the Smithsonian museums, and an academic tour of U.S. Treasury brought new dimensions to my classwork.
The vibrant student life, dynamic academic opportunities, and lasting connections I made with award-winning faculty and staff made my Mason experience the best one I could ever have wished for. It also taught me the most important lesson of my college career: When you're at Mason, you're home!
As a counselor I work mostly with students from Maryland and Delaware, but I look forward to connecting with all of you and helping you move one step closer to calling Mason your home too!
Pete Saenz — Admissions Counselor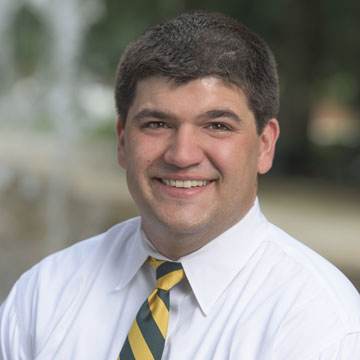 Aloha! My name is Pete Saenz and I am an Admissions Counselor here at George Mason University! I have grown up all over the country, from one island in Hilo, Hawaii to another in East Greenwich, Rhode Island, and have spent a year or two in pretty much every time zone in between. I eventually found my home at Mason, and graduated with my Bachelor's Degree in Sociology, along with a Minor in Human Development and Family Science.
Throughout my time as a student, I have had the pleasure of serving as a Mason Ambassador and Telecounselor for the Office of Admissions, giving tours and reaching out to help future Patriots that just didn't know it yet. Additionally, I spent my last few undergraduate years as a Resident Advisor for the Office of Housing and Residential Life, connecting residential students to the countless resources on campus and beyond. However, perhaps most importantly, two of my more crowning achievements remain to this day to be one of the original founders of two extremely different organizations here on campus: The Mason G-Men, Mason's Secretive-yet-Stylish Spirit Squad, as well as MAN, the Masculine Association of Nurses (I began my studies as a Pre-Nursing Major). It just goes to show Mason really does give you the opportunity to express your interests, whatever they may be!
For me personally though, Mason set the bar for colleges everywhere in terms of bringing the most to the table. Above all else, though, Mason provides location, location, location! The university's unbeatable proximity to Washington, D.C., gives Mason a big school feel with a small community atmosphere.
I am unbelievably excited to be a part of the admissions team, and if there is ever anything I can do to help you with you in the applications process, please feel free to let me know. I look forward to hopefully seeing you around campus. All the best and GO PATRIOTS!
Kirsten Pugh Walker — Admissions Representative
Hello everyone! My name is Kirsten Pugh Walker and I am an Admissions Representative at George Mason University.
I am proud to say that I hail from the great state of Ohio! I attended Ohio Wesleyan University where I received my Bachelor's degree in Sociology and Anthropology. After graduating, I began my career in college admissions working for state school in Ohio, which then led me to move to the Washington, D.C., area in 2002, where I continued my passion in admissions at a private university in the city.
Over my tenure, I have encountered many students who are driven, committed to excellence, and possess a desire for making a difference, just like the students here at Mason. George Mason University is more than just a school; it's a place to call home, an amazing community that I am so proud to be a part of, one that is making history right before our eyes. These experiences, and many others, are just some of the reasons why I love working at Mason. I am excited to share more of these moments with you and look forward to hearing about your interests in George Mason University!
If you have any questions about the college application process, or Mason in general, please feel free to contact me. I look forward to seeing you on campus soon! Mason Proud!
Throughout the year, our Admissions representatives travel across the country and around the world to meet with and talk to prospective Mason students at high school visits, college fairs, and events – be sure to see whether we'll be in your area in the upcoming weeks!
If you are an international student, please take a look at the global recruitment schedule.