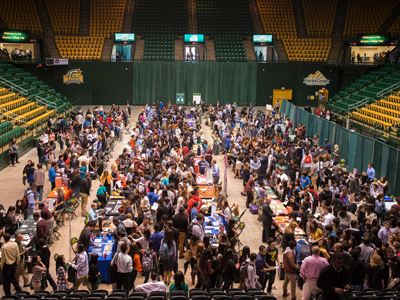 Alcanza - Opportunities Through Higher Education
We are pleased to announce that George Mason University will be hosting the 17th Annual Alcanza College Fair! Mason hosts Alcanza as part of our effort to inform the Latino high school student population in the Washington, DC metropolitan area about their higher educational opportunities and to encourage them to pursue their education beyond high school. The day was created to get students motivated and excited about their post-secondary plans. Over 150 colleges from all over the nation attend Alcanza with about 2,000 high school students from all over the Washington DC metropolitan area. The students in attendance hear from a keynote speaker and college student panel, as well as have the opportunity to participate in the college fair. To end the day, we provide lunch to all the students in attendance. The day is truly an opportunity for these students to understand the college process and begin to resolve where they would like to spend their college years. We look forward to your participation!
Tuesday, October 10, 2017
Opening Program & Student Panel: 10:00am
College Fair: 11:00am-12:30pm
EagleBank Arena (formerly the Patriot Center)
George Mason University
Fairfax, VA
High schools groups can register to attend ALCANZA at no cost and each student and staff member will receive a complimentary lunch. Registration for colleges, universities, and community organizations is $150.00 and must be paid by credit card. We have moved to a new college registration system, and can no longer accept check payments.
In the meantime, please feel free to contact the George Mason University Events Team at admevent@gmu.edu to learn more about our college fairs and outreach programs and to be added to our mailing list.
We look forward to seeing you in October!
Click here to register as a high school.
Click here to register as a college.
Important college registration information:
All payments must be paid by credit card. We can no longer accept check payments.