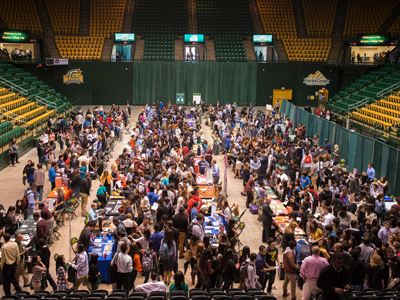 Alcanza - High School Registration
Greetings from George Mason University!
The Office of Admissions at George Mason University invites you and your students to join us for the 17th annual ALCANZA College Fair! Mason hosts ALCANZA as part of our effort to inform Latino high school students in the Washington, D.C. metropolitan area about opportunities in higher education.
With your participation, we hope to provide information essential to the college application and financial aid process and encourage students to pursue their education beyond high school. More than 150 colleges and universities from all over the nation attend ALCANZA for the opportunity to meet with over 1,500 high school students from all over the D.C. metropolitan area. We hope to welcome you to campus this October!
The ALCANZA College Fair
Tuesday, October 10, 2017
Opening Session - 10 a.m. - 11 a.m.
College Fair - 11 a.m. - 12:30 p.m.
EagleBank Arena (formerly the Patriot Center)
Not only is ALCANZA free of charge to your staff and students, but each guest will receive a boxed lunch and bottled water at the conclusion of the fair.
Student and Teacher Resource
Alcanza is Automated!
Through Go To College Fairs, students will have the opportunity to register online, allowing colleges to collect information by using a scanner device. Once registered, each student will receive a bar code linked to the student's contact information which the college representative will scan at the college fair. This process can significantly expedite the exchange of information between students and institutions, allowing for more meaningful conversations at the Alcanza College Fair.
Student Registration Instructions
Counselor Regsitration Instructions
Alcanza Powerpoint Slide
Advertise ALCANZA through your schools TV monitors and advertisement system using this powerpoint slide.
Alcanza Invitation
Please distribute this invitation to colleagues you believe would be interested in attending ALCANZA.
Alcanza Invitation in Spanish
Please distribute this invitation to colleagues you believe would be interested in attending ALCANZA.
Preparing For College Calendar
Please distribute this calendar to your students. It is a great guideline for students as they prepare for college!
Mason Dreamers
The mission of the Mason DREAMers is to create a more inclusive environment for undocumented students through education and advocacy. Visit our webpage at: www.masondreamers.org/index.html
Scholarships
Check out these Scholarships below! Also, find out how you can apply for Financial Aid and receive scholarship assistance.