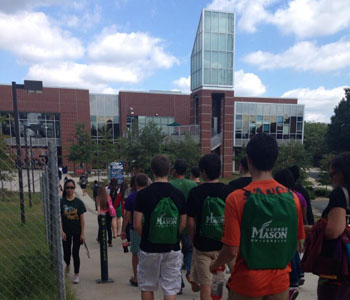 Outreach: Request Tour
Welcome to George Mason University's Outreach Tour request page. We offer tours for schools and organizations that serve students in grades K-8. These tours focus on general college access, financial aid and university life. These are not tours specifically about George Mason for prospective students, for those please visit: https://www2.gmu.edu/admissions-aid/visit-mason.
We have limited availability to host schools and operate predominately on a first-come-first-serve basis. However, we do make exceptions to assist organizations that support first-generation and underrepresented student groups. Available dates fill up quickly, so please plan well in advance!
Our standard trip includes a campus tour, a presentation about college life, admissions and financial aid, and a Q&A session with college students, a college counselor or an outreach specialist.
Guidelines
A maximum of 150 students per trip—groups larger than this must be split into multiple groups, over multiple days.
A minimum of 10:1 student-to-chaperone ratio is required.
If you would like to have lunch in the dining hall, our office will help arrange this, but it is based upon availability. Please note that there is a cost associated with this option. You also have the option of bringing lunch. If you choose to do this, we will help you find an ideal location to eat.
Thank you for your interest, we look forward to helping support your students in their pursuit of a college education!
Upcoming Sessions
Please fill out the form below to request a possible tour. Available dates are listed on the form. Please remember that filling out the form does not guarantee we are able to accommodate your visit. You must receive an email with specific details to confirm your visit.