Meet Mason!
Admissions Representative(s) for Massachusetts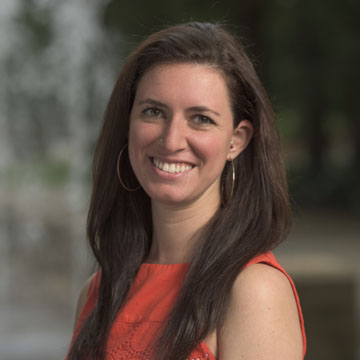 Eva Bramesco
Assistant Director for Honors College Admissions
Email: ebramesc@gmu.edu
Area of responsibility: Greater Boston Area
View Bio
Eva Bramesco is the Assistant Director of Honors College Admissions here at Mason. Beginning with her involvement in the Admissions Office at her alma mater, Eva has spent nearly a decade working with students and families of all backgrounds to overcome the various hurdles of the college admissions process.
In working closely with the Honors College, Eva gets to meet some of Mason's most ambitious and inquisitive applicants. As the product of a small liberal arts college herself, Eva loves to share the Honors College's benefits of small classroom settings, individualized attention from brilliant professors, the academic freedom to truly dive into areas and topics of interest, and what students can really do with these opportunities in a large research university setting.
Prior to her time at Mason, Eva worked in international development, first with the American Red Cross, and then for a consulting firm. From working in the competitive and fast-paced environment of Washington, D.C., Eva learned firsthand about the powerful combination of a customizable education in a unique location.
Originally from Danvers, Massachusetts, Eva graduated with high honors from Ursinus College in Collegeville, Pennsylvania with degrees in International Relations, Spanish and a minor in Latin American Studies, and is currently working towards a Master's in Public Policy at Mason. Her undergraduate research focused on democratization processes in disparate nations. In addition to her work at Mason, Eva is a long-time mentor, tutor, and advocate for educational equity. She can also be found on Twitter talking about current trends and issues in education at @EvaAdmissions.
Dylan Henry
Admissions Counselor
Email: dhenry4@gmu.edu
Area of responsibility: Statewide (Excluding Boston)
View Bio
Hello! My name is Dylan Henry and I am the Admissions Counselor here at George Mason responsible for the New England region. During my collegiate experience, I quickly found my passion for higher education by getting involved in various organizations dedicated to increasing student access to a four year experience. I began by working with Virginia21, a nonprofit organization that lobbies to Virginia House Delegates and Senators to improve financial aid funding to all students, I volunteered as staff for the Delegate for Newport News, and I then served in my alma mater's Office of Admission as a Student Ambassador and University Fellow to assist students in taking their next step in the pursuit of higher education.
I am originally from Newport News, VA and I studied Political Science and American Studies with a minor in U.S. National Security Studies at my alma mater, Christopher Newport University. As a product of a small liberal arts university, I value academic challenges and opportunities, and the community feel that George Mason offers to its diverse student body. I love Mason because it provides the best of both worlds in a college experience: a top-notch education from inspiring faculty who are leaders in their fields, and a campus experience that encourages students to find their passions and get involved. Our students have plenty of opportunities to conduct research, study abroad, create lifelong friendships, participate in internships, and make an impact on the world.
I know the college application process can be exciting and daunting at times, but I am happy to help you succeed! If you have any questions, or want advice on how to navigate this process, please reach out to me! I am excited to welcome you into our campus community and to share with you why I fell in love with George Mason University. Go Patriots!
Admissions Events in Massachusetts
There are no events being held in your area at this time, but please check back soon!