Meet Mason!
Admissions Representative(s) for New Jersey
Danny Brosnan
Admissions Counselor
Email: dbrosna@gmu.edu
Area of responsibility: Statewide
View Bio
My name is Danny Brosnan, and I am an admissions counselor here at George Mason University. While I did not attend Mason as an undergraduate student, it is an institution that I have always admired from afar. As a native of Fairfax and a graduate of Paul VI Catholic High School, I can speak not only to the quality of education that George Mason offers to prospective students, but also to the advantages of its proximity to Washington, D.C., and surrounding areas.
After graduating from Wheeling Jesuit University in 2009, I began working in the radio and marketing industry in Arlington, VA. In my free time, I coached baseball and swimming in the Fairfax area, which helped me to realize how much I enjoyed working with young people. This realization was the impetus for becoming involved in higher education! Five years after graduating, I returned to Wheeling Jesuit in 2013, and for three years, I was tasked with recruiting students from the east coast and low-income areas. During this time I also completed a master's degree in Educational Leadership. I started at Mason in 2016 and have quickly found my home here!
With three years of experience at a smaller institution, I am most impressed with how Mason manages to maintain an overall average classroom size of 25-35 students. Despite being the largest public research institution in the Commonwealth of Virginia, with a high national profile to boot, you feel like you are joining a close community from the moment you step on campus. Growing up in Northern Virginia naturally gave me the opportunity to be friends with many Mason alums, ALL of whom are doing well in their lives and careers (not surprising based on our 80% job placement rate just 6-months after graduation!).
Choosing the right college is a very exciting time in your life, and I look forward to sharing all that George Mason has to offer with you. If you have any questions about the admissions process, please do not hesitate to contact me at any time. GO PATRIOTS!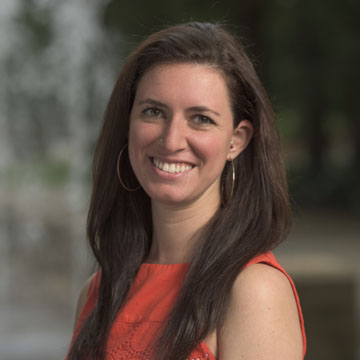 Eva Bramesco
Assistant Director for Honors College Admissions
Email: ebramesc@gmu.edu
Area of responsibility: (Southern New Jersey)
View Bio
Eva Bramesco is the Assistant Director of Honors College Admissions here at Mason. Beginning with her involvement in the Admissions Office at her alma mater, Eva has spent nearly a decade working with students and families of all backgrounds to overcome the various hurdles of the college admissions process.
In working closely with the Honors College, Eva gets to meet some of Mason's most ambitious and inquisitive applicants. As the product of a small liberal arts college herself, Eva loves to share the Honors College's benefits of small classroom settings, individualized attention from brilliant professors, the academic freedom to truly dive into areas and topics of interest, and what students can really do with these opportunities in a large research university setting.
Prior to her time at Mason, Eva worked in international development, first with the American Red Cross, and then for a consulting firm. From working in the competitive and fast-paced environment of Washington, D.C., Eva learned firsthand about the powerful combination of a customizable education in a unique location.
Originally from Danvers, Massachusetts, Eva graduated with high honors from Ursinus College in Collegeville, Pennsylvania with degrees in International Relations, Spanish and a minor in Latin American Studies, and is currently working towards a Master's in Public Policy at Mason. Her undergraduate research focused on democratization processes in disparate nations. In addition to her work at Mason, Eva is a long-time mentor, tutor, and advocate for educational equity. She can also be found on Twitter talking about current trends and issues in education at @EvaAdmissions.
Admissions Events in New Jersey
There are no events being held in your area at this time, but please check back soon!