Meet Mason!
Admissions Representative(s) for Virginia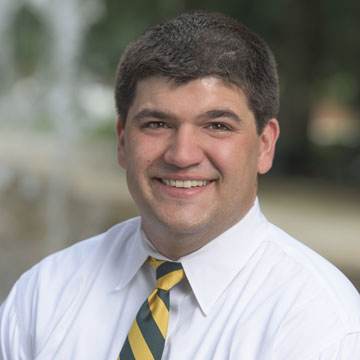 Pete Saenz
Admissions Counselor
Email: psaenz@gmu.edu
Area of responsibility: Albemarle
View Bio
Aloha! My name is Pete Saenz and I am an Admissions Counselor here at George Mason University! I have grown up all over the country, from one island in Hilo, Hawaii to another in East Greenwich, Rhode Island, and have spent a year or two in pretty much every time zone in between. I eventually found my home at Mason, and graduated with my Bachelor's Degree in Sociology, along with a Minor in Human Development and Family Science.
Throughout my time as a student, I have had the pleasure of serving as a Mason Ambassador and Telecounselor for the Office of Admissions, giving tours and reaching out to help future Patriots that just didn't know it yet. Additionally, I spent my last few undergraduate years as a Resident Advisor for the Office of Housing and Residential Life, connecting residential students to the countless resources on campus and beyond. However, perhaps most importantly, two of my more crowning achievements remain to this day to be one of the original founders of two extremely different organizations here on campus: The Mason G-Men, Mason's Secretive-yet-Stylish Spirit Squad, as well as MAN, the Masculine Association of Nurses (I began my studies as a Pre-Nursing Major). It just goes to show Mason really does give you the opportunity to express your interests, whatever they may be!
For me personally though, Mason set the bar for colleges everywhere in terms of bringing the most to the table. Above all else, though, Mason provides location, location, location! The university's unbeatable proximity to Washington, D.C., gives Mason a big school feel with a small community atmosphere.
I am unbelievably excited to be a part of the admissions team, and if there is ever anything I can do to help you with you in the application process, please feel free to let me know. I look forward to hopefully seeing you around campus. All the best and GO PATRIOTS!
Admissions Events in Virginia
There are no events being held in your area at this time, but please check back soon!