Meet Mason!
Admissions Representative(s) for Virginia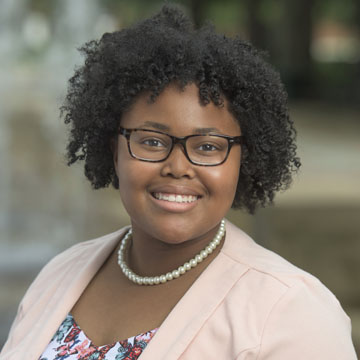 Kimberly Olodun
Admissions Counselor
Email: kolodun@gmu.edu
Area of responsibility: Hopewell City
View Bio
Hi there! My name is Kimberly Olodun and I am an Admissions Counselor here at George Mason University, as well as a Mason graduate with a B.A. in Global Affairs and a concentration in World Arts. I am originally from Virginia Beach, Virginia, but moved to Honolulu, Hawaii after my second year of college (I'm from a military family!).
As a student at Mason I was heavily involved in student life on campus, serving as a Resident Adviser, the president of the Black Student Alliance, and a teaching assistant for several African Dance classes on campus. Going to a school fifteen minutes away from the nation's capital kept me excited about all the opportunities available to me, like performing arts events and visiting different restaurants in Georgetown. I was constantly visiting the Smithsonian museums, and an academic tour of U.S. Treasury brought new dimensions to my classwork.
The vibrant student life, dynamic academic opportunities, and lasting connections I made with award-winning faculty and staff made my Mason experience the best one I could ever have wished for. It also taught me the most important lesson of my college career: When you're at Mason, you're home!
As a counselor I work mostly with students from Maryland and Delaware, but I look forward to connecting with all of you and helping you move one step closer to calling Mason your home too!
Admissions Events in Virginia
There are no events being held in your area at this time, but please check back soon!