Meet Mason!
Admissions Representative(s) for Virginia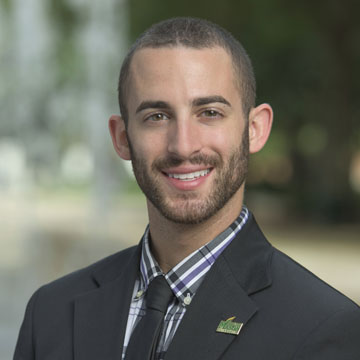 Andrew Bunting
Senior Assistant Director of Admissions
Email: admissions@gmu.edu
Area of responsibility: New Kent
View Bio
Hello! My name is Andrew E. Bunting, and I have the pleasure of serving as the Senior Assistant Director of Admissions at George Mason University, where I work closely to help coordinate our recruitment and marketing efforts. I am originally from New Jersey and graduated with Honors from the University of Delaware with majors in International Relations, French Language, and History. Additionally, I am nearing completion of a Master's Degree in Higher Education here at Mason! I've been part of the Mason admissions team since 2011, and love everything about this institution!
As part of the Mason Admissions team, it is my job to help prospective students and their families navigate the college search and application process. Mason offers such a unique set of educational and social opportunities, from first rate professors and study-abroad opportunities, to over 350 student organizations and Division I athletics. Mason really does have it all, and I am thrilled to be able to share our campus with you. My travel territory includes Northern New Jersey and New York, including New York City, Westchester County, and Long Island - expect to see me around if you are from these areas! If you have any questions along the way please do not hesitate to contact the Office of Admissions at admissions@gmu.edu.
I look forward to seeing you all on campus as Patriots!
Admissions Events in Virginia
There are no events being held in your area at this time, but please check back soon!