Meet Mason!
Admissions Representative(s) for Virginia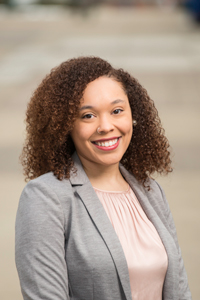 Jacqueline Mosely
Admissions Counselor
Email: jmosley7@gmu.edu
Area of responsibility: Stafford
View Bio
Hello! My name is Jacqueline Mosley, and I am an Admissions Counselor here at George Mason University. I am from a military family, and though we moved around a lot I claim Memphis, TN as my home. I completed my undergraduate degree in Statistics at the University of Tennessee. Within my involvement at UTK, I worked in the Office of Undergraduate Admissions as a Student Recruiter and found a passion for working with students!
After graduation from my own college experience, I wanted to continue my career path in admissions and working with students. I wanted a university that had the same "home" feeling as my alma mater, while also possessing fundamental features and resources. Mason possessed the five key components I think it takes to make a university great: academics, student life, research, diversity, and location! With these traits, student leave ready for the world in any academia. In addition, the balance of all these creates a unique and memorable college experience.
Mason's location, right outside of Washington, D.C., gives students unparalleled access to internship and research opportunities starting as early as freshman year. At the same time, we boast one of the largest and most modern residential campuses in the state, giving our diverse student community a safe and comfortable place to call home. It really is the best of both worlds!
Choosing that 'right fit' school is a monumental milestone in your life, and I am excited to help you find your home away from home at Mason! If you have any questions, or need any advice on the college search and application process, please feel free to contact me. Go Patriots!
Admissions Events in Virginia
There are no events being held in your area at this time, but please check back soon!