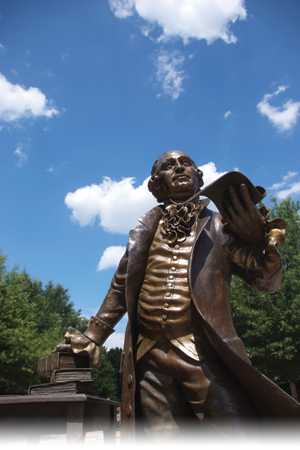 The Value of a Mason Education

Mason is recognized for providing the highest quality education at an affordable price. This past year alone, Kiplinger's Personal Finance magazine ranked Mason as one of the Top 100 Best Values in Public College on its national list, and Forbes magazine and the Center for College Affordability and Productivity ranked Mason number 68 among the Top 100 of "America's Best College Buys."
As a large, public research institution in the heart of northern Virginia's technology corridor, just minutes from downtown Washington, D.C., Mason students gain unparalleled academic and career advantages. Virginia's State Council of Higher Education placed Mason at the top of the list of Virginia schools for highest average starting salary of its graduates, making Mason a smart investment for your college future.
Financing Your Education
A college degree is one of the most valuable investments you can make in not only your education, but also in helping you to obtain a promising career and future. As one of the greatest values in education, Mason provides you with an affordable and wise college choice, academic quality, opportunities for top tier internships, and career networking that will assist you upon graduation.
Many Mason students receive some kind of financial aid, such as grants, scholarships, work-study employment, or loans. In order to assist you with the financial aid process, Mason's Office of Student Financial Aid (OSFA) has a team of dedicated professionals available to help you and your family. The OSFA staff will work with you annually as you re-apply for financial assistance each year you attend Mason.
If you're interested in applying for financial aid, complete the Free Application for Federal Student Aid (FAFSA) at fafsa.gov and submit it to the federal processor by March 1 of every year. It is best to complete the FAFSA as soon as possible after January 1 because some fund types are limited and therefore are awarded on a first-come, first-served basis.
For additional information regarding financial aid at Mason, visit financialaid.gmu.edu or call 703-993-2353.
Merit Scholarships
Mason awards millions of dollars every year in scholarships to incoming freshmen. These awards not only recognize strong academic talent and achievement, but they also recognize special talents and other personal characteristics, without regard to an applicant's financial need.
All freshman applicants who apply by November 1 (the Early Action application deadline) will automatically be considered for merit-based scholarships through the Office of Admissions and the Scholarship Committee. Students who apply Early Action are notified of their admissions decisions by mid-December, and the Scholarship Committee notifies students if they were awarded a scholarship no later than February.
2013-2014 Tuition and Fees
The costs for full-time undergraduate students attending Mason for the 2013–2014 academic year are listed below. Room and board (food) costs are averages and vary based on the student's choice of meal plan, residence hall, on-campus apartment and off-campus apartment.
| | In-State | Out-of-State |
| --- | --- | --- |
| Tuition & Fees | $9,908/year | $28,592/year |
| Room (residence hall) | $6,785 | $6,785 |
| Board (base plan) | $4,000 | $4,000 |
| Per Year Total | $20,693 | $39,377 |
* Room and board costs vary based on the student's choice in residence hall and meal plan.
For tuition costs and fees per credit hour, please visit http://studentaccounts.gmu.edu/tuition.html.
Mason Money
Mason Money is our on-campus debit card system. Two account types are available:
Mason Money-Food Service: Can be used at all dining locations on a sales tax exempt basis for a-la-carte purchases or to cover excess equivalency purchases.
Mason Money-Retail: Can be used for various purchases and fees, such as the Bookstore, Parking Services, and Health Services, as well as express locations for bottled drinks and pre-packaged snacks.
You may establish your account by prepayment of cash, check, Visa, or MasterCard. For more information, visit the Mason Money website or call the All-University Card Office at 703-993-2870.
Net Price Calculator
If you are applying to Mason as a first-time freshman, you can review your opportunities for possible financial assistance while attending Mason, by visiting our Net Price Calculator. Please note - the Net Price Calculator will provide an estimate of awards for which you might be eligible. This Calculator is offered only as a "planning tool" for you and your family, as stipulated by federal guidelines.
To access George Mason University's Net Price Calculator, visit: https://npc.collegeboard.org/student/app/gmu.