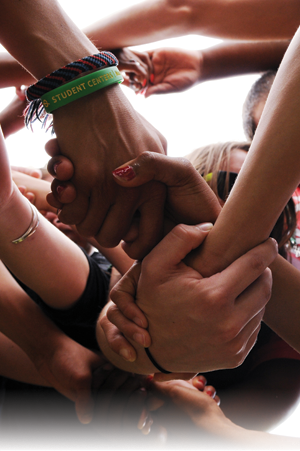 Top Reasons Families Love George Mason University
Just a few reasons why families love George Mason University:
Student success – Mason is known as one of the best schools in the nation for making sure that students achieve their goals, whether in career placement or graduate school. This was featured in the book "Student Success in College: Creating Conditions that Matter," written about a national study that tried to determine why a handful of institutions, like Mason, have such exceptionally high student achievement rates.
Location, location, location –
Campus – The gorgeous and secure residential suburban campus provides a wonderful atmosphere for academic and social engagement.
Connections – The D.C. area offers students the best internships, and provides an array of faculty and speakers that is second to none.
Transit – Mason is easily accessible from all D.C. area airports, train and bus stations, and mass transit. Interstates 66 and 95 are just moments from campus as well. So you can visit when you want!
Value – Mason shows up on every list of great values in American education, and that's no surprise. Mason has remained a pioneer at raising quality and prestige on an international scale, without needing to set costs that, at some institutions, truly boggle the mind! Mason is less than half the cost of the other major D.C. national universities, and on campus residences cost FAR less than the regional market.
All the extras! – From NCAA basketball and Division I athletics, to performances at the Center for the Arts and concerts at the Patriot Center, Mason's campus has it all. Add extensive recreation facilities, restaurants, and even a movie theater, and you have all the comforts of a small college town, with a location next to the most powerful city in the world.
Academic quality – Mason's theme is Think, Learn, Succeed. The emphasis is on "Think" because our core mission goes beyond career training. Our graduates are critical thinkers, sought after by employers and graduate schools alike. Through one of the top five Writing in the Curriculum programs in the U.S., the most recognized Technology across the Curriculum program in the world, and extensive living and learning, experiential learning, and study abroad programs, our graduates don't just process knowledge, they assess, react, and create! While many older, traditional institutions are trying to adapt to this urgent need, at Mason it is the center of our faculty recruitment and curricular development.
Real experiences – Whether it's conducting research on the newest Alzheimer's treatments, interning on Capitol Hill, or taking a paid position at one of the 4,000 information technology companies in a five mile radius of the Fairfax Campus, our students leave Mason with impressive resumes built from real opportunities.
Innovative Programs - At many institutions, old models silo knowledge in narrow forms, preventing students from developing critical thinking skills, and failing to prepare graduates for challenges of graduate school and the workplace. Fortunately, Mason is the leader in interdisciplinary programs. Mason opened the first School of Computational Sciences, and established the first PhD in Information Technology, as well as in Conflict Resolution, and both are offered at the undergraduate level! This year, Mason extends our world class program in Neuroscience to undergraduates, and opens a Video and Film Studies program, leveraging the region's strength as the center for online media and the production of documentaries.
Flexibility – Mason is designed for the modern student, offering an exceptional array of majors, and nearly as many minors, even across broad disciplinary boundaries. Engineering majors can minor in business, business majors can minor in art history, and artists can minor in information technology. Students in these different programs can study abroad for a week, a month, or a semester, and can switch between majors any time. Students can even choose different ways to complete their core requirements, choosing from a menu of options, from courses linked through common themes in Mason Topics, through a program that ties subjects to applied challenges in New Century College, or through interdisciplinary work in our Honors Program.