K-12 Partnerships
The K-12 Partnerships division of the Office of Admissions provides access to education via strategic outreach partnerships. Through outreach efforts, we engage with students at an early age to provide the tools to help them prepare for their futures and gain the necessary understanding to navigate the college application process. We work with students, families, schools and community based organizations to make sure college is an attainable goal for all students.
Outreach Experience & Group Tours

Looking to create a meaningful experience to as many K-12th grade students as possible? Our team has created a new and efficient registration system that caters to schools and organizations looking to bring their students to campus. Our job is to teach students what it takes to get to college by giving them the opportunity to tour a college campus (sometimes their first), view presentations of the admissions, financial aid, college choice processes, and the opportunity to eat at one of Mason's dining halls!

Requests must be made at least one month in advance, as there are no guarantees that the preferred date and time will be available. You will be contacted by phone or email if your request is approved with further details. If you have not received confirmation within a week of your requested group tour date, you are not registered. Do not make any travel arrangements until you have received a confirmation email.
Register for a group tour or contact Cristian Pineda (Admissions Coordinator, Grade K-8) or Daniel Brosnan (Admissions Counselor, Grade 9-12), for specific questions or concerns.
The Washington Scholars Program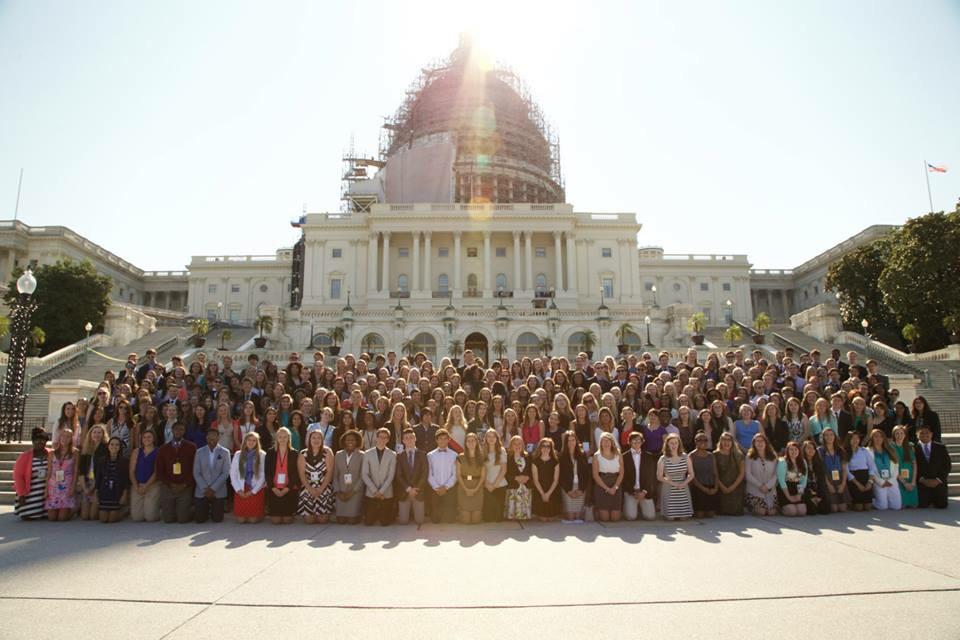 The Washington Scholars Program encompasses the Washington Youth Summit on the Environment and the Washington Journalism and Media Conference, which are week-long residential learning opportunities for college credit. These leadership programs are dedicated to providing quality educational and hands-on experiences for students interested in these emerging fields. Click here to view other youth leadership conferences held at the university.
K-12 Partnerships Staff
Elena Johnson —Director, Washington Scholars Program & K-12 Partnerships
Email: ejohns35@gmu.edu
Elena is the Director of the Washington Scholars Program (WSP) which includes the Washington Journalism and Media Conference (WJMC) and the Washington Youth Summit on the Environment (WYSE). As the director, she works to create fulfilling conference experiences by developing curriculum for the programs, as well as recruiting professional faculty and nationally recognized speakers in the fields of journalism and the media and environmental science. Prior to working with WSP, Elena worked as a College and Career Specialist helping high school students explore their educational and career goals and choices. She also managed the National Young Leaders Conference and the Global Young Leaders Conference in Washington, D.C. and New York City. Elena earned a B.A. in Journalism and Mass Communication from the University of North Carolina in Chapel Hill and is currently pursuing a Masters in School Counseling from George Mason University.
Rachel Cleaver – Associate Director, K-12 Partnerships
Email: rcleave2@gmu.edu
Rachel is the Associate Director of K-12 Partnerships in the Office of Admissions. In this role, she creates and oversees partnerships that help bring more students to the Mason campus. She works with many departments and organizations across the campus as well as the community as a whole to talk about the great things happening at George Mason as well as College Access and Success overall. Rachel brings groups of students of all ages to campus and you will often see her corralling large groups of middle school students around campus. Rachel provides general support to the Washington Scholars Program. Prior to coming to George Mason, Rachel has extensive experience leading the programmatic efforts at two college access and success programs on the East Coast, Let's Get Ready and The Hoop Dreams Scholarship Fund. She has extensive experience in curriculum design and program management and in helping under-served high school students achieve their college dreams. She earned B.S. degrees in Elementary Education and Human/Organizational Development from Vanderbilt University. She loves living in Washington, D.C.!
Ali Dodson – Assistant Director, Washington Scholars Program & K-12 Partnerships
Email: adodson@gmu.edu
Ali Dodson is the Assistant Director of the Washington Scholars Program. She has a B.S in Conservation Biology from George Mason University, and an M.S. in Sustainable Development and Conservation Biology and M.P.P in Environmental Policy from University of Maryland. Her master's research focused on student perception of environmental issues, which she then used to create and teach a summer Living Learning Community for University of Maryland's Upward Bound Program. She also worked with Maryland's Office of Sustainability to help create the UMD/K-12 Partnership for Green Schools, a program designed to help area schools become Green School certified. Before going to Maryland, Ali worked with the Consortium for Ocean Leadership's National Ocean Sciences Bowl, a national competition for high school students in the marine sciences. She also worked in the Ape House at the National Zoo, and was fortunate enough to be a part of the first Smithsonian-Mason Semester program, where she experienced the fascinating world of Smithsonian scientists. Ali comes from the EPA, where she was an ORISE fellow researching coastal wetlands. In her free time, she attempts to grow her own vegetables, hangs out in her big back yard with her dogs, and sings karaoke as often as possible.
Selina Kirwan – Event Manager
Email: skirwan@gmu.edu
Selina is the Director of Logistics for George Mason's Office of Admissions and also serves as the Advance Team Manager for the Washington Scholars Program. In her role as Director of Logistics, she coordinates and executes all recruitment events for George Mason University. As a member of the Advance Team, Selina will execute the "behind the scenes" aspects of the WSP Conferences and ensure the utmost satisfaction of all conference attendees. Prior to working with the Office of Admissions, she was a Site Director for Fairfax County's Therapeutic Recreation summer programs as well as an intern for the NBA's Washington Wizards. Selina earned her Bachelor of Science in Tourism and Events Management from George Mason University in May 2013 and is currently pursuing her Masters of Science in Sport Management.
Brianna "Bree" St. Clair – Events Coordinator
Email: bstclai3@gmu.edu
Brianna is the Event Coordinator for George Mason's Office of Admissions. In her role as Event Coordinator, she works alongside Selina, the Event Manger, to plan and run all recruitment events for George Mason University. Brianna earned her B.A. in Theater with a minor in Tourism and Event Management from George Mason University in May 2015 and is currently pursuing an M.A. in Arts Management.
Cristian Pineda – Admissions Coordinator, K12 Partnerships & The Fund for American Studies
Email: cpineda1@gmu.edu
Cristian is the Admissions Coordinator of K12 Partnerships and The Fund for American Studies (TFAS) in the Office of Admissions. As the Admissions Coordinator, he coordinates, develops and executes programming for groups visiting our campus. He also oversees Mason's partnership with TFAS, which includes partnership cultivation and oversight of the admissions process for this program for the university. Prior to this role, Cristian was a Site Coordinator for Communities In Schools of NOVA connecting students with community partners and resources that address both academic and nonacademic needs. He also worked in Washington, DC as an administrative and digital media assistant. Born and raised in Northern Virginia, he has worked in several local organizations including Edu-Futuro, VALHEN, the Hispanic College Fund, Lambda Upsilon Lambda Fraternity, Inc., as well as at Mason for the Student Transition Empowerment Program, the Early Identification Program, and the Latino Alumni Chapter. He received his B.A. in Communication from George Mason University, and has returned to pursue his M.Ed. in School Counseling.