Explore Fairfax
Historic Fairfax is one of the greatest gems in the area. It's the perfect home to a student who wants all of the opportunities only a major city can provide, and also a traditional residential college experience. Mason provides a free shuttle service to connect students to all of the fun events and activities in its lively neighborhood of greater D.C.
There is always something to do, and in Northern Virginia alone, Mason students' favorite activities include:
Endless music venues, concerts, and shows – besides Mason's own Patriot Center Arena and Center for the Arts, students enjoy catching shows in the area by big-name performers including One Direction, LMFAO, Blake Shelton, Gavin DeGraw, and even shows like Disney on Ice and The King and I.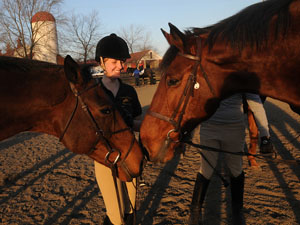 Parks, recreation, and more – Fairfax and the surrounding area gives outdoor enthusiasts the perfect outlets. You can play Ultimate Frisbee on any of the open parks, go hiking or rock climbing along the Potomac River or in Great Falls, and more. Mason has many running trails on campus, and even a zip line and a 50-foot vertical ropes challenge course at The Edge!
Comedy shows, trivia and open-mic nights, and other music venues – perfect for aspiring musicians and comedians. There are also festivals and events, such as the Chocolate Lovers Festival, or the three-week Festival of Arts and Culture, which showcases the best of the visual and performing arts in Fairfax.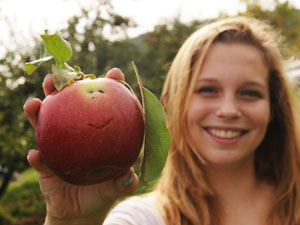 Weekly Farmers Markets, where students can purchase produce from local farmers, as well as arts and crafts from local artists and vendors. Mason hosts farmers markets on campus as well, so you can grab a yummy homemade treat before class!
Weekly free movies on-campus in the Johnson Center in our very own movie theater! Movies include old favorites as well as new releases. The JC Cinema even hosts advanced movie screenings and documentaries reserved exclusively for Mason students – this year, Mason students saw Paranormal Activity 3 before it was shown in any other movie theaters!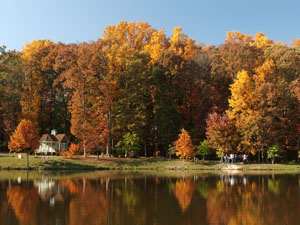 Historical sites, such as an early 19th century millhouse, or the County Courthouse, which was originally constructed as the county seat of government, and was a Civil War site.
Shopping! Including Fair Oaks Mall, located just 10 minutes from campus, Tysons Corner Center, the largest shopping mall in all of Virginia, or historic Georgetown's outdoor mall along M Street in D.C.!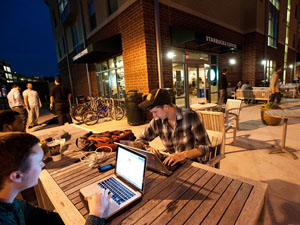 Endless good-eats – whether it's Mason's on-campus sports bar, the Rathskeller, the 24-hour on-campus Starbucks, Subway, Chick fil A, Red Mango, or Panda Express, we've got you covered. Have a sweet tooth? Wait until you step foot in Caribou Coffee – they have almost every coffee you can possibly dream of, including a student favorite, the Turtle Mocha, which is a hot chocolate coffee blend, topped with Snickers candy bits and whipped cream. Yumm!